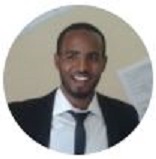 Ethiopia
Bio-statistics and Health Informatics, Madda Walabu University, Ethiopia.
Kedir Abegaz
Address:
Addis Ababa.
Research Interests:
Data Mining,
Biostatistics,
Big data.
Biography:
Kedir Hussein Abegaz was born from his father "Hussein Abegaz Birru" and his mother "Sofiya Adem Seid" in Alamata town, former Raya-kobo awraja, North Wollo, Ethiopia in 1988.
He attended his primary and secondary school in Alamata primary school and Tadagiwa Ethiopia secondary school, Alamata respectively.
He graduated his B.Sc. degree in Dilla University (2010) and M.Sc. degree in Mekelle University (2015).
Kedir is now working at Madda Walabu University Department of Public Health as Senior Lecturer and Research expert.
Research:
Determinants of food security: evidence from Ethiopian Rural Household Survey (ERHS) using pooled cross-sectional study
Data Mining of Access to Tetanus Toxoid Immunization Among Women of Childbearing Age in Ethiopia
The contribution of Productive Safety Net Program for food security of the rural households in the case of Bale Zone, Southeast Ethiopia
PHYSICIANS' AGREEMENT IN DETERMINING THE CAUSES OF DEATH USING VERBAL AUTOPSY DATA IN EASTERN TIGRAY, ETHIOPIA
FOOD INSECURITY AND AGRICULTURAL SHOCKS IN THE RURAL ETHIOPIA
EpiData; Data Entry and Documentation
Hello Dear scholars!what are the current topics of Data mining in Health care?
EndNote Referencing.