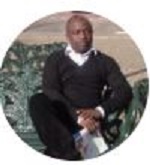 Ghana
Kwame Nkrumah University Of Science and Technology
Emmanuel de-Graft Johnson Owusu-Ansah
Address:
Kwame Nkrumah University Of Science and Technology,
KNUST · Department of Mathematics.
Research Interests:
Data Analysis
Classification
Feature Extraction
Neural Networks and Artificial Intelligence
Data Mining and Knowledge Discovery
Clustering
Supervised Learning
Advanced Machine Learning
Applied Mathematics
Unsupervised Learning
Feature Selection
Time Series Analysis
Text Mining
Statistical Learning
Data Clustering
Data Science
Statistical Data Analysis
Cluster Analysis
Predictive Modeling
Biography:
Emmanuel de-Graft Johnson Owusu-Ansah currently works at the Department of Mathematics, Kwame Nkrumah University Of Science and Technology.
Emmanuel does research in Uncertainty Quantification and Risk Assessment with applications in Biostatistics, Bioinformatics, Data Science/Mining and Artificial Neural Network.
He previously worked on a project 'Quantitative Risk Modeling Interdisciplinary Instructional Training., and
currently working on the project " Computational Quantification of Uncertainty in Complex Industrial Models".